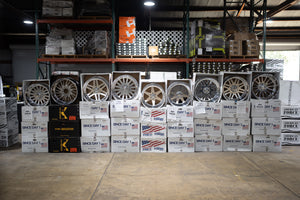 Wheels Wheels Wheels!
Here at the Shop we've been getting many deliveries for wheels, we have many American Force wheels in stock, ranging from finish, to size, to bolt pattern, to everything in between. 
Along with American Force wheels, we've also been receiving shipments of other brands such as Moto Metal, KG1 Forged, Fuel, Gear Offroad, Weld, and many more.
We also have a select few sets of wheels in stock that are currently for sale at a reduced price, such as a set of 30x16 American Force Vantages and a few sets of Cali Offroad wheels. 
We know times are tough! That's why we offer SNAP Financing too, so you can get your set of wheels without having to worry about making a huge payment!
Give us a call or stop by the shop to take a look at our full Inventory and to talk with our sales reps about picking up a set of wheels!
---