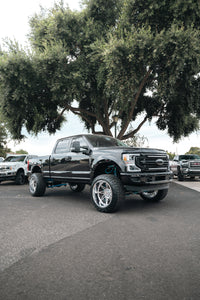 2021 Ford F250 with king suspension upgrades, wheels, tires and more.
2021 Ford F250 equipped with KG1 Forged, Kala's 24x12/8x170 with a polished finish and billet floater center caps. Wrapped on the wheels, are a set of 37/13.50/24 Nitto Recon grapplers which give a slight stretch, but keep an overall square look.
Additionally, Client requested the installation of a 4", 4 link conversion lift kit with 2.5" front King coil overs equipped with reservoir shocks, rear being equipped with 2.5" King Piggy back shocks, adjustable traction bar, and a dual steering stabilizer.
along with the lift kit installation, Client had certain parts, such as the: Traction bars, leaf packs, blocks, and springs powder coated Trans blue. Other powder coated parts consist of traction bar brackets being powder coated silver and the brake calipers being red.
NOTE: In order to run a setup similar to this, proper trimming and adjusting is required to minimize the chances of rubbing. These modifications consist of trimming the bumper liner, and adding a bumper spacer.
There is also a variety of aesthetic and practical modifications done to the truck, such as a B&W 7" drop hitch, Retrax bed cover, wrapped chrome trim, Rock lights, wheel lights, color matched body parts, and a set of LED grill light bars.
---