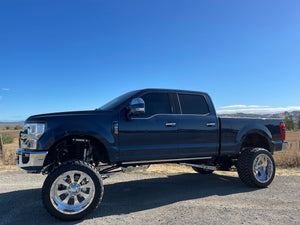 2020 Ford F250 King Ranch - @budrun
Aaron Gama - 
one of the best trucks out on the road today, @budrun's beautiful Ford F250 King Ranch Ultimate. Budruns truck is no joke when it comes to making sure it has the best parts for his lift kit. Starting off with the lift kit itself, a 7-9" One Up Off-road Lift kit with all the options, that includes dual steering stabilizers, front and rear traction bars, Deaver long travel leaf springs, and Radflo 2.5" Bypass shock
Along with the lift kit, the truck also has upgraded, SSBC 8 piston brake calipers, with slotted and dimpled rotors.
various parts were powder coated such as the leaf springs, coil springs, axles, and many other small parts of the lift kit. Along with the powder coating, many small body parts were paint matched to match the body.
The truck is also sitting on a nice set of 24x14 Showoff Forged wheels, and 375/40/24 Toyo MT's. the Custom Showoff Forged wheels are an original design that pays homage to classic wheel designs. Our Showoff wheels are also Monoblock Forged which ensures the strongest build quality so you'll never have an issue with them.
Showoff Motorsports is the Central Valleys #1 American Force dealer and truck specialists. We strive to provide the best customer service possible. If you have any questions, please call (209) 869-5438. 
1525 Main St, Escalon, CA 95320
---